The 11th Annual Seguimos Creando Enlaces (We Continue Creating Connections) conference was back in person with 167 attendees at the San Diego Central Library on Friday, May 12th, 2023. Creando, for short, is a free, binational conference, sponsored by CALL, that fosters community connections and cultural diversity in public, academic, and special libraries, bringing together libraries from both sides of the U.S.-Mexico border to share best practices and build more inclusive library spaces. Conference sessions are proudly presented in both English and Spanish and include live interpretation.
This year's conference theme was "Open Minds, Open Doors – Mentes y Puertas Abiertas", and opened with a keynote presentation from beloved children's author and illustrator Yuyi Morales, as well as featuring 2Spirit storyteller Juan Reynoso. A catered lunch from the locally-owned Empanada Kitchen was hosted by the San Diego Public Library Foundation and Friends of the Library. Workshop sessions included topics around advocacy for intellectual freedom, equitable programming and access for all, highlighting innovative and inspiring projects for communities of color, immigrants, refugees, LGBTQIA+, Spanish speakers/ESL resources, digital equity and binational collaborations.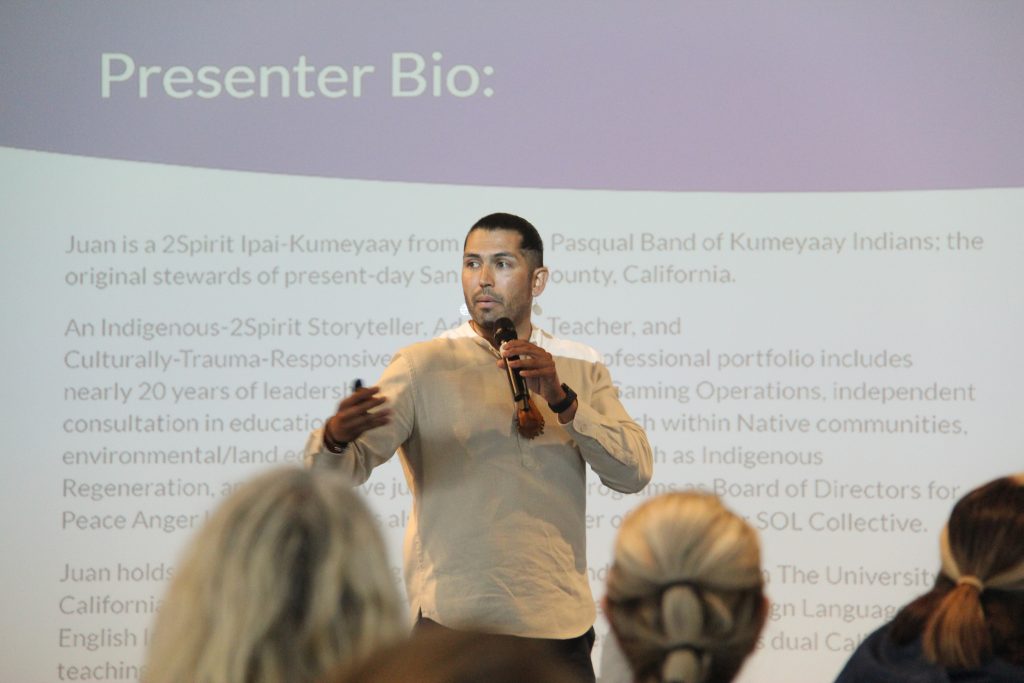 2023 Creando Attendee feedback:
Me gusto la diversidad de las presentaciones ese año. (I liked the diversity of the presentations this year.)
The live interpretation really makes it possible for everyone to connect with each other and become educated on the fantastic library work happening on both sides of the border.
Wonderful content, really impactful presentations!
Many of the presentations showed examples of leveraging community interest and skills to be more inclusive and showcase strengths. The library was shown as being responsive and facilitating groups to see their contributions as important.
I immediately reported out to our Latinx Advocacy Team and discussed how collaborating with Spanish-speaking community organizations is best practice.
Special appreciation goes to the small group of dedicated committee members, who put much time, talent, vision and heart into this incredible event: Veronica Andrade, Adriana Huertas, Ana Villalpando, Sarah Hoeffel, Laura Kirkland, Leslie McNabb, Mayra Turchiano, Orquidia Contreras, Patrick Sullivan, Erika Esquivel, and Eric Castro.
The committee meets virtually, and committee members can be located anywhere. We begin planning in July. If you think you might be interested in joining the 2024 Creando committee, and would like more information, please contact Tamar Kirschner.